Software Localization Testing Presentation At Adobe On May 18, 2017
May 17, 2017 admin 0 Comments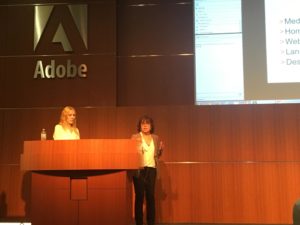 Information From The IMUG Webpage: https://www.meetup.com/IMUG-Silicon-Valley/events/235674465/
Linguistic and functional testing is a critical part of the localization project workflow; it is the final quality control check and it precedes product release. Testers look for bugs in the product and ideally report them using a dedicated issue-tracking platform, such as JIRA or other bug tracking tools. Testing is very important, as it allows discovery of errors that may have remained unnoticed, especially in almost-final apps on real devices.
The presentation will cover key industry trends and innovations, as well as the major challenges testers encounter. For real-world examples, we will also discuss how the Moravia testing facility was set up and how the linguistic testers there are trained.
Valeska van Vliet is a Site Operations Manager for Moravia IT. Valeska opened the Moravia testing facility in Monterey, CA in June 2016, overseeing the renovation and redesign of the facility and the initial recruitment of linguists in almost 30 languages. Today the Monterey Language and Testing center is performing linguistic and functional testing for Silicon Valley and medical device clients. Valeska is passionate about all things related to localization: language, culture, technology, and global reach. Her experience spans senior management roles on both the client and vendor side which has given her a 360° view of the business and the drivers for success. She has a track record for establishing foundational localization practices and procedures and she thrives in a fast-paced environment where team interaction and collaboration are prerequisites to success.
Olga Melnikova is a project manager and the training team lead at Moravia Monterey testing facility. She is responsible for training of on-boarded testers, as well as managing projects for major Moravia clients. In 2015 she graduated from MIIS. In 2015 and 2016 she was the winner of LocJAM, a non-profit worldwide game localization contest. Her passion for other languages translates, among other things, into her performances with the O'NO band that plays songs in 10 languages.